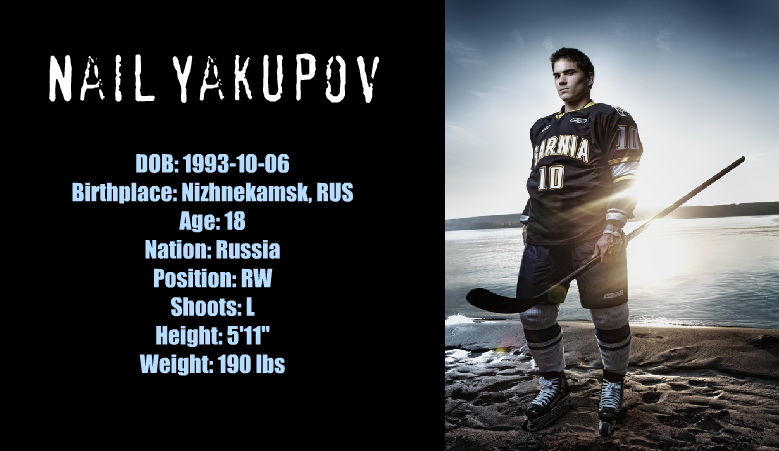 Each week starting in February I will feature a top draft eligible player from each of the NCAA, CHL & USHL leagues for the upcoming 2012 NHL Entry Draft. While the Islanders work on their 2nd half playoff push (as usual), I think this is a good time to read up on players who could end up putting on an Islanders jersey this June. For more Islanders rants and Draft Prospect news, I invite you to follow me on twitter:@Kevin_Corey


This year's draft has already started a Twitter trend – #FailForNail. Currently playing for the Sarnia Sting in the Ontario Hockey League, Nail Yakupov is considered to be the fan favorite to go 1st overall in the 2012 NHL Entry Draft. Yakupov was named the top North American-based skater in mid-season rankings released by NHL central scouting. When interviewed by TSN.CA, Dan Marr, the NHL's director of central scouting said "He's capable of being a difference-maker in a game." He continued by saying "He's got the ability there to just take over a game. He's got that high-energy, high-speed game and he's got a scoring touch."

After four straight seasons a Canadian has gone number one, this elite Russian has a chance to follow Alexander Ovechkin's footsteps from 2004, going number one in the 2012 NHL Entry Draft. Bob McKenzie of TSN admires Yakupov's willingness to go to the dirty areas to score goals and mix it up a bit once in a while.
"Last year Nail Yakupov was selected 2nd Overall in the CHL Import Draft. Expectations are high when you're picked at that spot, but you never really know what to expect. On the first day of training camp, he unleashed the biggest one timer I've ever seen out of a 16 year old. At that moment I knew Yakupov was something special. Nail is arguably the best prospect available in the 2012 NHL Entry Draft for several reasons. First and foremost is his skating. He maintains a low centre of gravity, great strength in his lower body and his quick footwork allows his first few steps to be very strong, giving him exceptional acceleration."
- HockeyProspect.com's Mark Edwards

After bowing out to Sweden one month ago at the World Junior Championships in the gold medal game, Yakupov unfortunately suffered a left knee injury that very same night putting him on hold to resume his season with the Sarnia Sting. The 18 year old finished the tournament with nine assists in seven games. Yakupov normally finds himself at the top of the scoring charts but has recently started to slip mostly due to playing 16 games less than the leading OHL scorer Tyler Toffoli of the Ottawa 67's. According to Puck Daddy, "the name "Nail" is of Arabic origin and means "reaching" or "achieving" or "gaining success." Quite fitting for Yakupov". It's safe to assume the fans of Columbus are already promoting the "Fail for Nail" Campaign even before the clock mishap in Los Angeles. However, will the "Russian Factor" scare Columbus General Manager Scott Howson away after his dealings with Nikita Filatov?

CBC HNIC radio interview with Jason Davidson
Interview with Dan Sallows
Interview with Yahoo Sports Dmitri Chesnokov
Season to Date: GP:29 G:22 A:33 P:55 PIM:24
NHL Potential: 1st Line Winger


Check back next week for a Matt Dumba feature. Please feel free to share this article with anyone who cares about the NHL Draft.