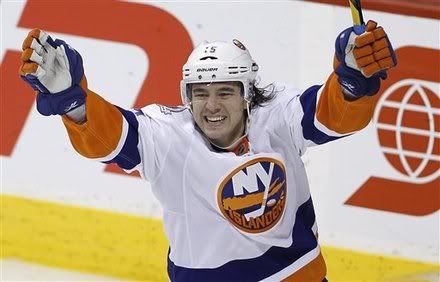 As reported first by Darren Dreger of TSN.ca, it appears that P.A. Parenteau and his agent Allan Walsh would rather negotiate after the end of the season. Walsh says "he and his client don't believe it is appropriate to pursue contract discussions at this time, but will listen if the Islanders are eager to negotiate. Parenteau wants to focus on helping his team make the playoffs and would prefer to shelve contract negotiations until the end of the season."

Although this isn't the first time we've heard this in sports…(Nashville's Ryan Suter), you have to commend Parenteau and his agent for the strategy they are going with. Let's be real here folks, P.A. is on pace for a career year in points and assists. He's been taken off the number one line and is still producing on multiple levels. At the end of the day, this could be the last "biggest" contract Parenteau will sign in his hockey career. After that, depending on his health, everything will be short term. Now let's not jump to conclusions and assume he's going to bolt to the team that offers him the most ridiculous contract ever. My gut feeling is that P.A. genuinely loves Long Island and the most important quote to come out of this news release from Walsh is "He's [Parenteau] made it very clear from the outset that he's highly motivated to stay with the New York Islanders," Walsh told TSN.ca via e-mail. The Islanders gave him his first real opportunity to thrive in the NHL, he has a fantastic relationship with his teammates, the coaches, Garth Snow and the fans. Most importantly, P.A. sees the Islanders trending up and believes they will be a contending team for many years to come."

"With that being said, the Islanders are currently six points out of a playoff spot. Now is the time to play hockey, not to discuss or focus on contracts. When the season is over, I'm sure both parties will work diligently towards an agreement that will ensure a mutual long term commitment to one another" Walsh said. However, Walsh adds Parenteau's focus remains on getting a deal done with the Islanders before July 1.

Parenteau has 12 goals and 39 assists for 51 points; two points shy of equaling a career-high and is scheduled to become an unrestricted free agent on July 1.

My take: Let the kid rack up points and help this team earn a playoff position. This is how sports work. He's going to cash in and we're lucky to be so far under the cap floor next year, I don't think we'll have a problem signing him. I think Garth will worry more about the length of the new deal rather then the money. After all, he did take Rolston to push his cap hit up 5 million more. I mean, there's no way he signed him up for production, right?