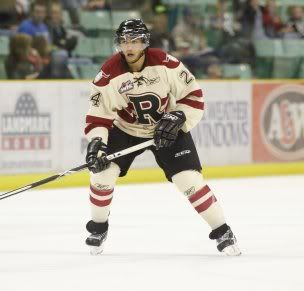 Each week starting in February I will feature a top draft eligible player from each of the NCAA, CHL & USHL leagues for the upcoming 2012 NHL Entry Draft. While the Islanders work on their 2nd half playoff push (as usual), I think this is a good time to read up on players who could end up putting on an Islanders jersey this June. For more Islanders rants and Draft Prospect news, I invite you to follow me on twitter:@Kevin_Corey
"The High Impact Crusher and Rusher" – Bob McKenzie

There are many talents that attract the average fan to the game of hockey. Is it a player's ability to skate effortlessly, end to end and score a highlight reel goal? Are you left speechless by these courageous goalies standing in front of Zdeno Chara's 108.8mph slap shot? Is it funny to watch two grown men with no teeth throwing haymakers only knocking out more teeth? Or the feeling you get when you watch a player move across the blue line to deliver an earth shattering check that make you cringe? Whether your fan of Sidney Crosby, George Parros, Dion Phaneuf, or Martin Brodeur, you have to respect what each of those players bring to game and how important their role is to their team. For the purpose of this article, we're going to appeal to the fan that loves the big hit.

Think back to January 31st, 2010. Defenseman Dion Phaneuf was traded in a seven player deal from the Calgary Flames to the Toronto Maple Leafs. While theirs great debate whether he's [Phaneuf] overrated or not, Brian Burke believes that "Phaneuf is a warrior. He's got a cannon for a shot. He plays the game hard and I want players who play the game hard because they're hard to play against." Burke admired his play so much; Phaneuf was awarded the "C" during the off-season. This June, you can sure as hell bet that all 30 NHL general managers will be taking a long look at Matt Dumba. For the Alberta native, Dumba is known for having an "excitement" factor to his game. Some scouts have said Dumba possesses the same qualities as Phaneuf while Bob McKenzie and the rest of the TSN panel compare him as the next coming of P.K. Subban. My take: if his abilities continue to match his passion and excitement for the game, he very well could be on his way to becoming a franchise defenseman and one day having prospects being compared to him.

Sliding in at #5 in Bob McKenzie's Mid-Season NHL Draft Rankings, Dumba is currently tied for 3rd on his team with 38 Points in 50 games played. Sporting the number 24 for the Red Deer Rebels in the WHL, Matt Dumba was awarded the Jim Piggott Memorial Trophy for WHL's Rookie of the Year in 2010–11. The biggest believer in Matt Dumba is Matt Dumba himself. In a recent 1on1 interview with TSN's James Duthie, Dumba admitted he believes he can catch Nail Yakupov for the top spot before the end of the season". This would not only make it 5 years in a row a Canadian has been chosen first but prove maybe the "Russian Factor" does indeed exist? Or are you convinced it will solely depend on who retains the number one pick and what their needs are. Let's go with that for now and try these for instances: If Columbus is awarded the number one pick on draft lottery day, you can bet that they will be putting all their chips on Nail Yakupov in June. However, if a team like the Edmonton Oilers stumbles their way with a win on lottery night, one must assume GM Steve Tambellini will address their defensive needs with a player like Matt Dumba.
"If there was a University of Hockey, then Mathew Dumba would soon be embarking on a PhD in hockey physics. The kid uses angles, momentum, positioning, powerful skating and timing to unleash highlight reel, but legal hits. He also possesses unbelievable spatial awareness and his anticipation is off the charts". – Christopher Ralph, THW

No one is a bigger fan of Matt Dumba than Craig Button. The former Calgary Flames general manager said, "Every time I watch him [Dumba] play, all I see is continued progress in his game. I watch and I don't see any area of his game that he cannot only play in, but can dominant and excel in. He reminds me of Chris Chelios, with a little bit of Scott Stevens." Central Scouting currently ranks Dumba at #7, Craig Button has him ranked at #2. Unfortunately for Dumba, neither of these pre-draft rankings could influence Don Hay, coach of team Canada's WJC team. "Cutting players are always tough decisions," coach Don Hay said. "Whenever you're dealing with elite players and real good players, the decisions are tough. The first round is tough decisions." One of those tough decisions was on Dumba, a top prospect for the 2012 NHL Draft and the youngest skater in camp. "I thought Matt did very well," Hay said. "They're all good players. Matt Dumba is an elite player. We knew he would do well here, but is he ready for this tournament at this time? We don't think so." You could hear the disappointment in Dumba's voice when he found out. "I really wanted to make this team," he said. "It was really hard to wake up this morning and pack my stuff up. Emotional, but I'll get through it. Just the experience is great." It's very easy to forget fellow Red Deer Rebel, 2011 1st overall pick - Ryan Nugent Hopkins was cut in 2010. So, will that cut diminish any chances Dumba had at going 1st overall, or fuel the fire that burns inside only motivating him to have a strong, convincing year in the WHL.

If you're a New York Islanders fan, you're craving for a prospect like Matt Dumba. Sure the Islanders invested a 2nd and 3rd round draft pick in players like Scotty Mayfield and Andrey Pedan, but one must remember not every draft choice always works out, regardless of how much promise they come with. Travis Hamonic has been the anchor on defense through the 2011-2012 season, but until recently you can see how much his presence is missed when you don't have it in the lineup. A player who's willing to play the body, clear the crease, block shots and treat no one with respect to their last name or the sweater they wear is something that GM Garth Snow should be searching for more of this summer. Matt Dumba very well could give the Islanders the boost they need down the road as Travis Hamonic eventually assumes the number one role. With 5 months to go until draft day, we hope that Garth and Co. will be doing their "due-diligence" – watching many, many, many Red Deer Rebels games.
"Scouts have been marveling over Dumba's offensive skills since he first stepped on WHL ice in 2010 as a 15-year-old. Led all WHL rookie defencemen with 15 goals last season and notched 14 this campaign before the Top prospects game. Led the 2011 U-17 tournament in scoring, collecting 12 assists in six games. Strengths: One of the draft's best skaters and gets his team out of trouble with his wheels. Has a hard point shot, considered one of the best shooters in the draft. Strong passing skills and vision, adept at finding shooting and passing lanes, looks for the big hit and not afraid to lay out opponents. Weaknesses: A risk taker who will cost his team some goals with his over aggressiveness. Will need to add some muscle to play a robust style at the NHL level. Lack of size will cause him some problems down low and in front of the net. NHL upside: Draws many comparisons to PK Subban in skating, shot and risk taking, but may have more overall sense. Has the skills to be a power play quarterback and top two defenceman".
-Grant McCagg, TSN.ca


Interview with Dan Sallows
Edmonton Journal (Cult of Hockey)
TSN Featured Video on Matt Dumba (Click Here)


Other Draft Previews:
Nail Yakupov Draft Prospect Profile