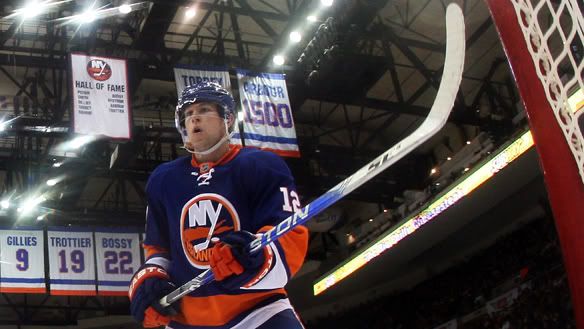 (Bruce Bennett/Getty Images)
Datsyuk/Zetterberg, Crosby/Malkin, Toews/Sharp, Kopitar/Richards, Giroux/Briere, Krejci/Seguin, Thornton/Marleau, Sedin/Kesler……what do all these players have in common? They provide a one-two punch down the middle for their respective organizations. They help their wingers score more on a consistent basis. They put pressure against opposing coaches and defense. They get their hockey clubs to the playoffs. This write up is to not necessarily take shots at
Josh Bailey
but focus on the glaring need for the Islanders to add a legitimate second line center.
When
Ryan Strome
was selected fifth overall in the 2011 NHL Entry Draft by the
New York Islanders
, it was apparent that GM Garth Snow was not satisfied with the development of 22 year old Josh Bailey. Although this move made most Islanders fans excited, (especially Craig Button who suggested that Garth Snow should take a long look at Ryan Strome weeks before the draft), it left Josh Bailey wondering what his fate will be and if he's still considered part of the core.
In his first three seasons with the NY Islanders, Bailey recorded 34 goals and 54 assists in 211 games earning him a two-year contract a day after Snow agreed to terms with John Taveres on a six-year deal. Although negotiations dragged out with RFA Josh Bailey, the deal was made locking up the young center with two more years to prove his worth. Unlike the Milbury days, you have to credit Garth Snow for sticking with his draft picks and not trading them for a quick fix.
To date, Bailey has been playing more of a checking role, centering the third line seeing minutes with
Brian Rolston
,
Blake Comeau
,
Matt Martin
,
Tim Wallace
,
Nino Niederreiter
and now
Rhett Rakhshani
. We've heard countless times that we'll never see the true Josh Bailey unless he plays with scoring wingers. Bailey was touted as having some of the best vision in his draft year. He's displayed that sparingly but never consistently. With 5 goals, 8 assists and a minus -12 halfway through the season, one has to wonder how much more Garth Snow is going to get out of his 2008 – 9th overall draft pick. Would he have been better off served returning to Juniors where he would have won a Memorial Cup with the Windsor Spitfires? Would the World Junior Championship have provided the necessary experience to play under pressure wearing team Canada's colors? Should the Islanders have waited until he turned 20 years old to give him a year in Bridgeport to further continue his development at the pro level? Although it does us no good to focus on the past, one must learn from it. This is a formula that the
Detroit Red Wings
seem to have down pat. Never rushing their prospects, never force feeding them NHL minutes, if anything – making sure they are over ripe.
Without debate,
Frans Nielsen
fits this team as a defensive forward 3rd line center which concerns me more of who is the number 2 center going to be in the 2012-2013 season? We don't know for sure Ryan Strome will be ready next year, or the year after that. We know what he can do offensively in Juniors, but that success doesn't always translate to the NHL right away. In a salary cap world where team's lock up players long term, most GM's find it very difficult to trade for a top center. Adding to that, it's even more difficult when Garth Snow MUST pay attention to how far he goes above the salary cap floor so needless to say, he will have to get creative.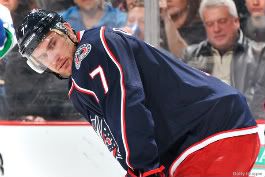 With rumors circulating around Columbus that
Jeff Carter
wants out, this proves that 2nd line centers can be found. It's just a matter of deciding whether or not Garth wants to take on a contract as heavy as his, if he can provide help for Grabner and Parenteau, and if his injury woes are behind him.I believe Carter is not the solution to the problem and should not be considered however it's easy to crave his skill set and size – something that is desperately needed down the middle for this hockey club.
Chris Botta has repeatedly said that this team is in desperate need of a proven veteran. Think along the lines of what
Michael Peca
did during his time on Long Island. Peca came in to the locker room after having led the
Buffalo Sabres
to a Stanley Cup final, demanding results from his players and good goaltending from
Chris Osgood
and………..Garth Snow. Now although Garth Snow takes his fair share of heat from the fans about not being a qualified GM, it's experiences such as this one that lead me to believe that Snow is in tune with the holes on this team. It's easy to point out that we signed Brian Rolston,
Jay Pandolfo
,
Mark Eaton
,
Steve Staios
and Mark Mottau but facts are facts my friends – at the moment nobody intends or wants to sign here.
With all that said, looks like Garth Snow's only option is to get creative with a trade or two. Regardless whether we are playoff bound this season or not, I truly believe Garth Snow should be a buyer at the deadline and set himself up for next season. Excuses are made every year why we didn't make the playoffs and how he will not tolerate losing. Enough is enough, play the kids and make the trades necessary to improving this hockey club next year and beyond. As Peter Strup once said
"time only seems to matter when it's running out"
. The time is now, Garth.
For more Islanders rants, follow me on twitter: @Kevin_Corey