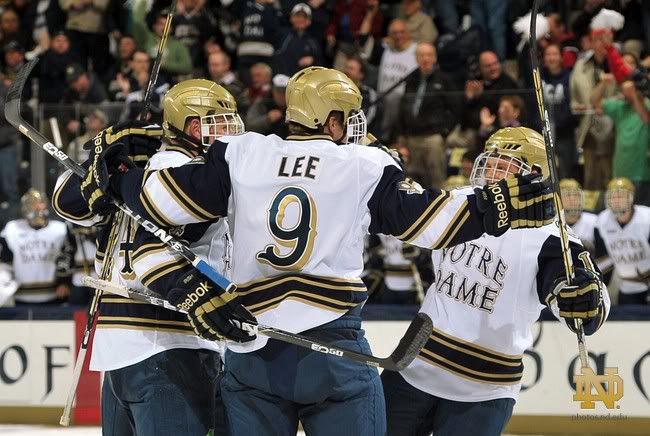 When the
New York Islanders
selected Anders Lee in the 6th round of 2009, many had hoped his athletic abilities will carry over to the Notre Dame hockey program. A graduate from Edina High School in Minnesota, Lee was known to be an exceptional athlete on multiple levels including hockey, football and baseball. A finalist for Minnesota's "Mr. Hockey" Award, Lee also played quarterback for Edina High School where he won numerous awards throughout 2008, broke records and was a finalist for Minnesota's "Mr. Football" award. Lee went on to play for the Green Bay Gamblers (USHL) in 2009 where he led Green Bay to 1st place in the East Division tallying 35 goals and 31 assists. At Green Bay, Lee was tied for the USHL lead in goals, selected USHL rookie of the year and to the USHL all rookie team.
When a scout is asked to give insight on a player to his supporting cast, I can only imagine these were some of the selling points discussed at the round table. Although I do not know who is fully responsible for going to bat for Lee, I'm sure that scout is feeling pretty good about his time invested in Minnesota and Green Bay right about now.
On Friday, January 20th, 2012 Anders Lee led Notre Dame on the ice for what turned out to be everything you can ask for in a college hockey game. Notre Dame entertained a sold out "white out" crowd defeating Michigan 3-1. Lee, a 1st line winger playing alongside T.J. Tynan (
Columbus Blue Jackets
), combined for a +6 and 2 assists on Friday. A strong presence in the corners, Lee won just about every 50/50 battle and didn't think twice about going to the net. A resemblance of Scotty Hartnell of the
Philadelphia Flyers
, Lee is a versatile center that can be used in all different situations, a good source of physical play, offensive punch and size that most 1st lines desperately crave for. Standing at 6'3''/227lbs Lee leads his team in shots with 102 (26GP), goals with 14 and a plus minus of +6. His ability to angle defenders off the puck, regain control in the offensive zone and provide a screen in front of the crease is everything that is currently making New York Islanders winger
Matt Moulson
a very wealthy man.
Plus: Strength in the corners, willingness to go to the net, great release, NHL ready (physically)
Minus: Skating, must work on his stride to make his size more affective playing a North South game.
The New York Islanders presence is felt throughout the Notre Dame locker room with 2011 - 4th round pick
Robbie Russo
sitting near by. At 5'11'', Russo is the youngest defenseman on the team (18) anchoring the number one power play unit. Although my scouting report is a bit different for Russo, watching the game on Friday night - you can see the potential oozing off of him. Think
Paul Martin
. Russo comes across as a kid with a lot to learn but being given every opportunity to excel in the Notre Dame program. This is great if you're the NY Islanders because one never wants to see their draft choices riding the bench on most nights putting their development to a screeching halt.
Plus: good vision, good first pass out of the zone, patient with the puck.
Minus: too many low percentage passes and play away from the puck.
Realistic Approach:
If it were up to me, I would look to set Anders Lee up with
John Tavares
' workout camp this summer. If Garth Snow is serious about this prospect, it might be wise for him to start learning from his future captain. With the likes of Matt Moulson,
Ryan Strome
and other professionals training around him, this opportunity will only help Lee switch his mindset from college athlete to professional ice hockey player. I would give Lee one more year at Notre Dame to hone his craft before considering him for the pro game. With
Kyle Okposo
,
Michael Grabner
, Matt Moulson signed long term and
Casey Cizikas
and
Rhett Rakhshani
performing well in the Bridge, there should be no sense of urgency. One can only hope that
P.A. Parenteau
is going to be locked up long term (similar to the Okposo/Grabner contract) as well as
Frans Nielsen
.
As for Robbie Russo, I would suggest that he stays in Notre Dame all four years. Being that he's only 18 and already earning a substantial amount of playing time, it would be wise for the Islanders not to put any pressure on this prospect. Every student of the game has their own learning curve and timeline of development. It seems to me that the Islanders are finally setting themselves up where they will not feel the need to rush their prospects. For instance,
Nino Niederreiter
learning his craft on the fourth line is not what anyone expected but it does show the Islanders are not counting on him to be an impact player this year. Why not just learn the game, pressure free and the right way. At best, I would like to see him moved up to the 3rd line throughout the last 15 games of the season. Don't worry fans; I'm sure you'll hear "Strome cuts through the neutral zone, dishes to Niederreiter who powers his way to the net, SCORES!" very soon. Based on the Blue vs. White scrimmage, it seems everyone is excited for that line combination.
***Please note, I've never written an article before or plan on being a journalist. I found this website to be a great source of Islanders hockey talking about everything and anything. Please feel free to comment. Just remember, I do not consider myself a writer. Enjoy.