For those who follow the Islanders on Twitter and Facebook, they do Tuesday Night Trivia during the offseason and when the team doesn't have a game. I had been late answering a few times with the right answer, but one night in August I was looking at my twitter feed as the question came up and I knew the answer. The question was "Which Islanders coaches were replaced with the coaches they replaced?" and the answers were Rick Bowness and Terry Simpson.
So I emailed the Islanders PR department my info and promptly forgot about it. At least I did until a rainy day in November. I was going out to check the mail and saw a package waiting for me, with the return address being a familiar one:
So I opened the box up and along with a box of coupons and the Islanders social media guide, something worthwhile:
Kind of surprised actually that they give away a 20 dollar hat (that's the listed price on the hat) for trivia winners. I was sort of expecting to get that relatively cheap Islanders shirt with the PC Richardson logo on the back which the Ice Girls give away.
The hat fits great and definitely blows away my previous hat:
Okay technically that's me with the new hat. My old hat is this one: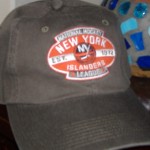 And No, I don't know why there is a green Islanders hat either. But it was cheap!